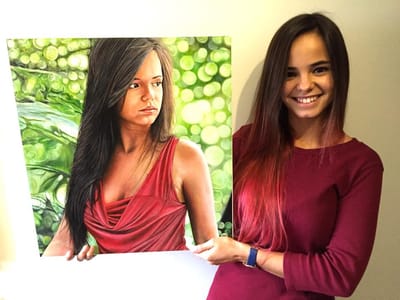 Painting Time

Up to 4 weeks. Depends on the number of orders, detail and size of the painting. If you have a delivery time limit, please tell us.


Picture for Painting

Send the picture to the email: jbellostudio@gmail.com "Facebook" or Form on the Page "Custom Commission"


Shipping

Shipping everywhere in the world.

All orders are shipped safely against possible loss or damage that may occur during shipping.

Shipments are provided with a tracking Id.


Payment Information

To begin the painting the minimum initial value is 25% of the total value.

Contact us first if you wish to pay only this initial value of 25%.

The remaining payment will be made on delivery.

If you wish to make payment in another method, contact us please.


Shipping Cost

Shipping and discounts will be calculated at checkout from cart.


Delivery Time

Portugal: 1-2 days

Europe: 3-5 days

Worldwide: 5-7 days


Progress of Painting

If you wish, during the progress of the work, will be sent pictures to accompany the painting.


Other Size

If you want other size that is not indicated. Please fill in form on the page "Custom Commission"